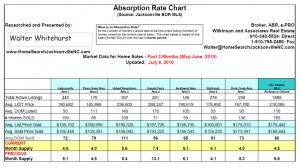 With the tax credit ending on June 30th and no extension of the June 30th deadline passed by the Congress until the last minute, homeowners were rushing to close by June 30th to make the deadline.
This rush to close by June 30th and the normal busy sales cycle starting the first of June caused substantial improvement in the Absorption Rate figures for the May-June time period. The overall Onslow county market improved from 5.6 to 4.8 months to sell existing home inventory. Click on the chart to see full-size image.
The biggest improvement was in the Sneads Ferry area where the housing supply dropped from 13.1 months to 7.9 months. This improvement was mainly in the homes under $200,000 – you see it in the difference between Average Price of Homes Listed ($288,247) and the Average Price of Homes Sold ($193,225).
Next month's report will start to show less tax credit influence, though the tax credit will still be available to those military personnel who were deployed more than 90 days between January 1, 2009 and April 30, 2010. Check with your tax professional for the details and if you still qualify for the $8,000/$6,500 Tax Credit