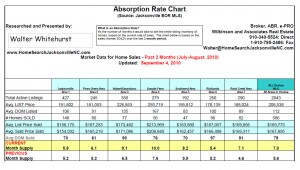 Click on image to enlarge for better viewing
There was a 25% increase in the Monthly Supply of homes from the June-July 2010 report. This large increase showed up mainly in Areas 3, 4, 5, and 7 with Areas 1,2, and 6 showing slight increases.
Home sales dropped from 705 homes to 586 homes with Active Listings increasing from 1962 to 2043. The Average Sold Price dropped from $170,893 to $167,895, which shows that the lower price homes are selling much better.