Home is where the heart is, and you are going to fall in love with Towne Pointe! Towne Pointe is one of Jacksonville newest communities that offers you the dream home and dream neighborhood you are looking for. Towne Pointe which has been built in honor of our history from the neighborhood name itself to the streets within the neighborhood. Each part of Towne Pointe shares an unique background and meaning with historical names and back stories which are sure to intrigue you.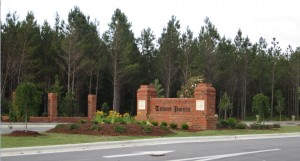 Towne Pointe greets you with a beautiful entrance offering the the welcoming comfort of home! Follow the long entry way which means homes are protected from the main road, no loud traffic or noise. Enjoy as you begin to view the lovely new constructed homes all wonderfully spaced and filled with all of the extras that any home owner would love. Homes have been built by Savvy Homes, H&H Homes, and Caviness and Cates with 3 to 4+ bedrooms, 2 plus baths, and large two car garages. Towne Pointe also offers numerous floors plans to choose from most which range from 1500 square feet to over 3000+. Towne Pointe is a beautiful neighborhood with all the feel of home.
Towne Pointe is located for convenience, just a mere 10 minutes to schools and shopping. Towne Pointe is also located less than 3 miles from Camp Lejeune Marine Corps Base. Towne Pointe is convenient all that way around. There is also the nice bonus of being this close and not have to pay city taxes! Don't forget – when some of those hot summer days living at Towne Pointe come, you are only 13 miles from some of Carolina's most beautiful beaches for you and the family to enjoy.
Enjoying all of this convenience and luxury you would think that it is not affordable. Think again the new homes in Towne Pointe start off in the 170's up to the 270's. So there is a home for everyone. Take a moment and look at all the new houses out there waiting for someone to call them home. Click on the link below and see all the unique and beautiful homes that Towne Pointe Has to offer.
Towne Pointe Community near Jacksonville NC