As a first time home buyer it can often be overwhelming. Even if you have purchased a home before, the entire process may have changed and the industry can be somewhat different from the last time you purchased a house.
Hopefully, with the guidance of a good realtor, esp. a good buyer's agent, and some insight before you begin your trek, it can be a pleasant experience for you. Obviously the first step is to find the right realtor or real estate agent.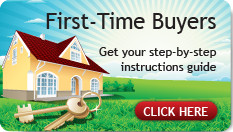 While it's not just a fit in the personality department when choosing your agent, it's a definite factor that you want to mesh in this area. You'll want to have someone you feel comfortable with and can rely upon. Once you have that covered there are a few things to take into consideration as a home buyer. Each of these items listed are things that your real estate agent should be able to help you with if needed.
Familiarize yourself with the various mortgages & get a general idea of what's available to you. Your agent should be able to help you with this, explaining each type of mortgage available to your specific needs and be able to recommend a good mortgage lender.
Get pre-approved before you start looking; this will let you know what your basic financial options are and what you can realistically expect to get financed for. Pre-approval is not a guarantee to getting financed, but it's a fairly good step towards assuring that you have the ability to move through the process quickly by getting your ducks in a row before you even begin looking.
Create a budget and know what you have to work with in all aspects of the move itself; from the amount of payment you can afford to the money you have to work with in order to move, and whether or not you will be doing some home improvements before moving in so you're working with an empty house. Do you have money set aside if there are certain issues that the lender will want repaired before they will finance it?
Decide what you must have in the home you're buying and then a list of would like to haves – taking into consideration everyone's needs in the family. This list is going to be important for your agent as well because it can help to narrow the houses available that meet your particular needs.
With the answers to these questions in hand make a scorecard for each home you view and take pictures with your cell phone or digital camera to upload with the scorecard for each house. After a while they may all start to meld together and you'll forget which one was the one you loved the new kitchen and which one had that terrible set of steep stairs you'd have to deal with every time you went to the basement to do laundry.
Ask your agent to give you a run-down on the basic steps of buying a home so you know what to expect. This quick check list will help you feel in control of the home buying situation. You never want to go into any situation blindfolded but this is especially true in a situation as large as buying a home. Again, having an agent you trust and feel comfortable with is probably the first most important aspect of your home buying experience.
If your agent and their supporting staff are experienced and able to answer questions that come up, no matter how big or small, you're going to feel more at ease with them. If they have an office that makes you feel confident that your needs will be met and questions answered within a reasonable length of time, it helps you feel even more confident.