Flow Circus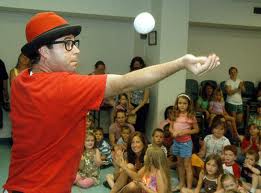 When:  July 13, 2013 at 2:00 PM
Location:
Northeast Regional Library
1241 Military Cutoff Road
Wilmington, NC 28405
Website: www.nhclibrary.org
Admission: FREE!
Description:
Performing at Northeast Public Library in Wilmington, NC, Flow Circus showcases the juggling skills, magic, and comedy of Paul Miller, a man who has collected games of balance and skill from around the globe. No reservations required. HOURS: 2-3pm.
For More Information – Click Here:
Contact: Julie Criser
Phone: (910) 798-6303
Email: jcriser@nhcgov.com